Storing shoes for an extended period can be a daunting task. Without the proper care and consideration, your prized footwear could end up discolored, misshapen, or even ruined beyond repair.
But with the right preparation and maintenance tips in mind, you can ensure that your shoes will stay looking great even after months of storage. This article will discuss tips on how to keep your shoes in good condition while they are stored away for long periods.
From ventilation techniques to specific cleaning regimens – these strategies will help you preserve the quality of your most cherished footwear!
Clean Shoes Before Storing
It is essential to clean shoes before storing them long-term. Doing so helps preserve the quality of the shoe and can help prevent any unwanted odors.
Removing dust, dirt, and debris from your footwear will also provide a better overall appearance when you are ready to wear them again. Depending on the type of shoe, there are different ways to go about cleaning it safely.
For leather shoes, use a damp cloth or brush with an appropriate cleaner designed for leather goods and lightly scrub away any stains or dirt that has accumulated over time. If necessary, you could follow up by applying a protective layer such as polish or wax if desired after they have dried completely.
For canvas shoes, wipe them down with a damp cloth then allow them to dry in the open air before storage. Additionally for all types of materials including rubber soles using some light detergent should help keep your shoes looking their best while in storage for extended periods!
Find an Appropriate Storage Location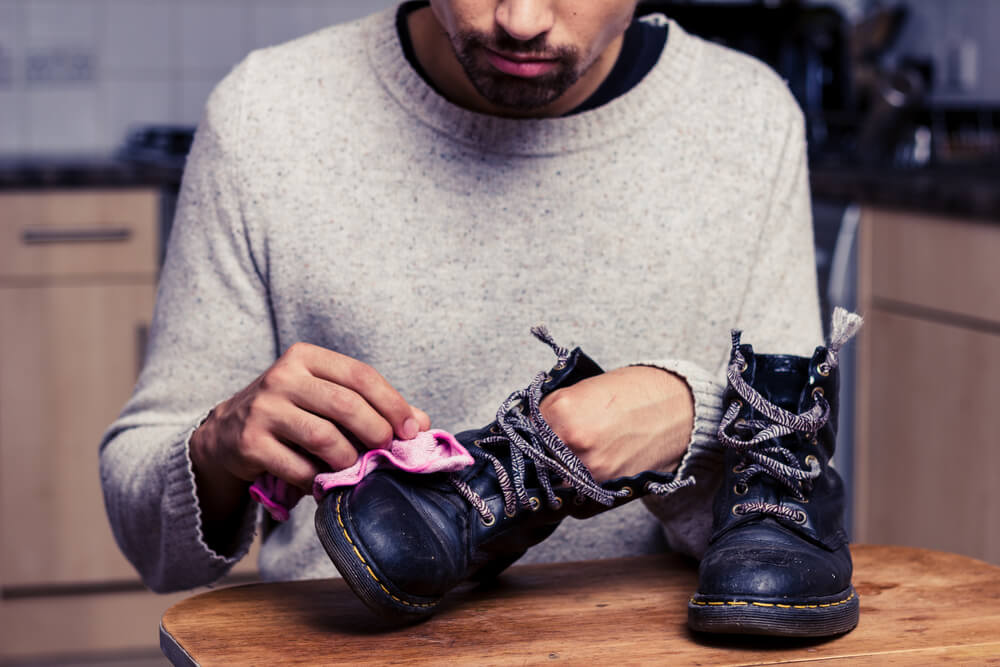 When storing shoes for extended periods, it is important to find an appropriate storage location. A key factor when deciding on a storage spot is the amount of space available and how much ventilation there will be.
Keeping them in a dark, enclosed area can lead to damage over time from excessive humidity or lack of air circulation. You want to choose a room that has enough airflow and won't trap moisture inside the shoe boxes.
Also, make sure that your storage location doesn't get too hot or cold; extreme temperatures can cause lasting damage to leather and other materials used in shoes. Place your shoes away from direct sunlight as well since UV rays can weaken fibers and discolor fabrics over time.
Finally, consider whether you need easy access to the stored items; if so then make sure you don't store them in an out-of-the-way place!
Use Shoe Trees or Forms to Keep Shape Intact
When it comes to storing shoes long-term, there are a few key steps you must take to maintain the quality of your footwear. One such method is using shoe trees or forms to keep the shape intact.
Shoe trees are wooden devices that help preserve the form and structure of shoes when they're not being worn. They also help absorb moisture from within the shoe, which can cause damage over time if left unchecked.
Similarly, foam forms can be used with special bags that allow for air circulation while keeping dust away from your shoes. Both tools will ensure that your shoes retain their original shape during extended periods of storage – an important factor in preserving both their aesthetic and comfort levels!
Conclusion
Properly storing shoes over long periods can be tricky, but with a few simple tips, you can help preserve the quality and longevity of your footwear.
Be sure to clean them regularly, store them in a cool and dry place away from direct sunlight or extreme temperatures, stuff them with newspaper when not in use to help keep their shape intact, and avoid moisture and humidity by using shoe trees or dehumidifiers if necessary, and take the time every once in a while to repair any wear-and-tear damage that may have occurred.
By following these steps you will ensure that your shoes last for years to come – just remember to check out local shoe repairs near me if anything needs fixing!